Critical Conversations at the College of Charleston
In recent years, our national climate has brought us to a reckoning moment in history, where we are talking deeper about racism, inclusion, and equity. For many, dealing with the effects of systemic racism are a part of everyday life. It is essential that we have honest and productive conversations about race, diversity, equity, and inclusion, and the impact not only on individuals, but our institution. "Critical Conversations" grapple specifically with these topics, as well as the impacts of COVID-19, the elections, and the U.S. borders. Our topics will evolve with today's realities, and we urge you to help us select future conversations. 
> Submit an event or input on a future critical conversation.
---
More Conversations & Events
Out of this World: Afro-German Afrofuturisum in Global Context
Oct 11 at 5 PM EST  |  Join via Zoom
Join via Zoom: Changing the Narrative: Race, Equity, and Inclusion in Germanophone Europe (2021 CofC German Campus Weeks). Dr. Priscilla Layne of UNC Chapel Hill will be presenting a lecture entitled "Out of this World: Afro-German Afrofuturism in Global context." 

 
Supporting Migrant Writers and Their Stories in Germany
Oct 28 at 5 PM EST | RITA 101
Black Lives is the 2021-2022 World Affairs Signature Series
Fall 2021
Throughout Fall 2021, join the
Black Lives is the 2021-2022 World Affairs Signature Series
 sponsored by the School of Languages, Cultures, and World Affairs. In the spirit of the Akan aphorism "Sankofa," which emphasizes the importance of looking to the past to understand the future, this series features a number of events and a range of courses taught in 15 different disciplines in an effort to enhance our understanding of Africa and peoples of African descent across time and space. October events are listed below. View all Fall 2021 events at 
https://blogs.cofc.edu/lcwa-signature-series-black-lives/
. 
10/6
5:00-6:00pm. Crisis at the Border: Haitian Migrants and Colonial Legacies. Panel includes Dr. Monica Jimenez (UT Austin); Dr. Mamyrah Douge-Prosper (UC Irvine); Dr. Robert Sapp (CofC); Dr. Mark Schuller (Northern Illinois University); Mark Cloherty (Servant Partners)
10/8
4:30-5:30pm. Uncanny Exposures: Embodied Infrastructures and Toxic Solidarities at Dakar's Dump. Rosalind Fredericks, NYU Gallatin School, New York University. This talk will serve as the Keynote Lecture for the Southeastern Regional Seminar in African Studies (SERSAS) Fall Conference as well as a Sustainability Literacy Institute event.
10/9
8:30-4:30pm. Southeastern Regional Seminar in African Studies (SERSAS) Fall Conference. https://www.sersas.org/2021-fall-conference-program 
10/11

7:00pm Namsa Leuba Panel. Women's and Gender Studies and the Halsey Institute of Contemporary Art host a panel discussion to reflect on themes arising from Namsa Leuba's Crossed Looks exhibit. Panelist include CofC faculty Kameelah Martin, Hollis France, and Mary Trent.
10/14-16
International Conference on Romanticism https://icrchas2021.wordpress.com/ 
10/14
5:30pm. Charleston Bound: Encountering Ties between the City's Past and Present Panel with Christina Butler (American College of the Building Arts); Dr. Shannon Eaves (CofC); Rhoda Green (Barbados and Carolinas Foundation); Harlan Greene (Charleston Historical Commission); Dr. Joe Kelly (CofC); Dr. Felice Knight (The Citadel). Moderated by Dr. Bernard Powers (CofC). Location: Lockwood Marriott, 170 Lockwood Blvd, Topaz Room and on Facebook Live 
10/15              
3:00 – 4:15pm. "Common Disaster": Nineteenth-Century Kinship and the Social Heritage of Slavery. Friday Keynote by Manu Samriti Chander. Location: Lockwood Marriott, 170 Lockwood Blvd, Topaz Room and on Zoom
6:45-8:00pm. Film screening: The Bespoke Tailoring of Mr. Bellamy. Location: Sottile Theatre and on Facebook Live
10/16
5:30pm. "Fight Clubs: Bonds of Race Between the February 1848 Revolution and the April 1848 French Abolition of Slavery, as Made and Unmade through Douglass and Baudelaire"
Saturday Night keynote by Deborah Jenson on Zoom
10/26-11/2
James E. Campbell RSJI Award HBCU Tour. Select SC Campuses.
10/27
6:00pm. AAST/REI Decolonizing the Curriculum Lecture Series. The Color of Technology: Algorithms of Oppressions: How Search Engines Reinforce Racism. With Dr. Sofiya Noble of UCLA.
10/27 and 10/28
9:00-10:00am. CLAW Book Club Meeting, Black Jacks by Jeffrey Bolster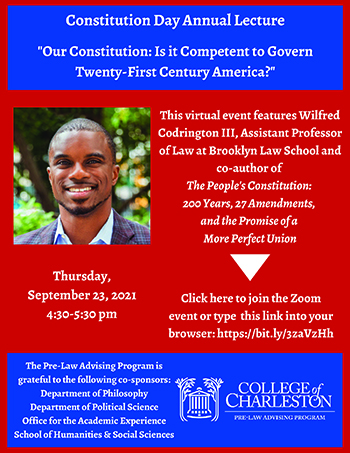 "Our Constitution:Is it Competent to Govern Twenty-First Century America?" - Constitution Day Event
Sept 23 at 4:30 PM EST  |  Join at https://bit.ly/3zaVzHh
This virtual event, sponsored by the Pre-Law Advising Program, features Wilfred Codrington III, assistant professor of law at Brooklyn Law School and co-author of The People's Constitution: 200 Years, 27 Amendments, and the Promise of a More Perfect Union. Join the Zoom event here: https://bit.ly/3zaVzHh.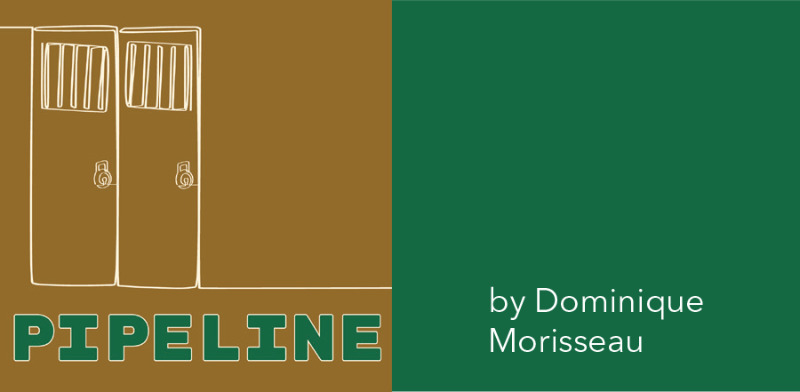 CofC Theatre presents "Pipeline"
Sept & Oct Shows | After the Show Conversations TBA
An inner-city public high school teacher is committed to her students but desperate to give her only son Omari opportunities they'll never have. When a controversial incident at his upstate private school threatens to get him expelled, Nya must confront his rage and her own choices as a parent. With profound compassion and lyricism, Pipeline brings an urgent conversation powerfully to the fore; a deeply moving story of a mother's fight to give her son a future — without turning her back on the community that made him who he is. Directed by alumnus Michael Smallwood; recommended for ages 14+.
September 24, 25, 27, 30 at 7:30pm
September 26 at 2:00pm
October 1 & 2 at 7:30pm
Chapel Theatre, 172 Calhoun St. 29401, map, parking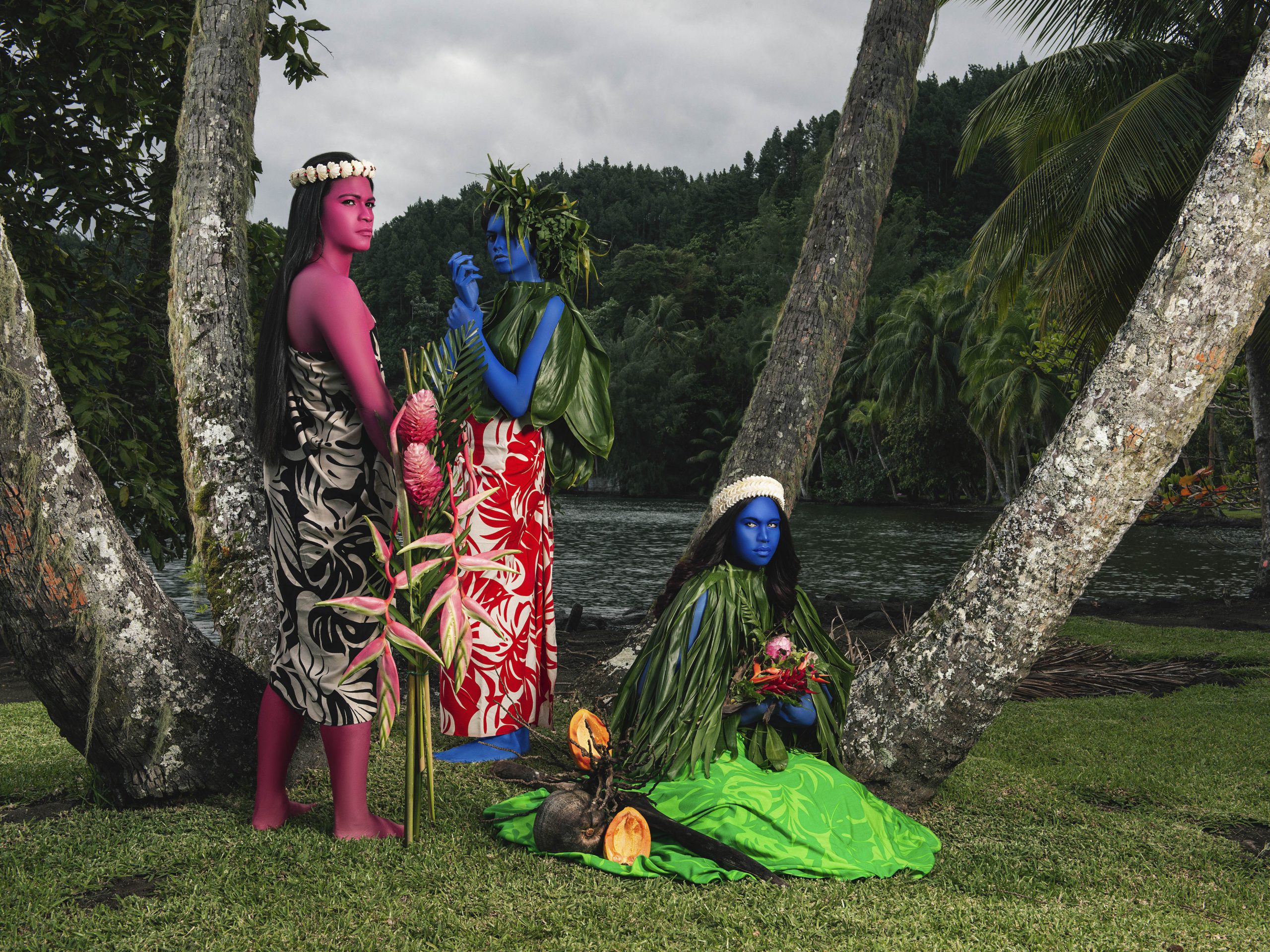 You Are Here
Aug 27 - Dec 11
Join the Halsey Institute is pleased to present 
Crossed Looks
, the first solo exhibition of Swiss-Guinean artist Namsa Leuba in the United States. The show will feature over 90 works from the photographer's projects in Guinea, South Africa, Nigeria, and Benin, and it will premiere new work created in Tahiti. As a photographer working across documentary, fashion, and performance, Namsa Leuba's images explore the fluid visual identity of the African diaspora. With a dual heritage between Guinea and Switzerland, Leuba draws inspiration from her own experience growing up between two different cultural traditions.
All events are free and open to the public unless otherwise noted.
"Thank you, Marian, Thank you Paul: A Tribute to Marian Anderson and Paul Robeson," an evening of spirituals, American songs and arias
Nov 1 at 7:30 PM ET (Sottile Theatre)
"Thank you, Marian, Thank you, Paul: A Tribute to Marian Anderson and Paul Robeson": Guest artists duo Alexis Davis-Hazell and Earl Hazell present an evening of spirituals, American songs and arias as performed by Marian Anderson and Paul Robeson. This concert will spark the imagination and bring history alive through song. Read more.
Join us for the Decolonizing the Curriculum Lecture Series: "Sovereignty and Survivance in K-12 Education," with Leilani Sabzalian.
Drawing from her book Indigenous Children's Survivance in Public Schools, Sabzalian's talk highlights the everyday ways that Native youth, families and educators creatively navigate the colonial dynamics of public education. By sharing stories of Native sovereignty and survivance, she hopes that all educators will see themselves as responsible for countering colonialism and teaching in ways that better support Indigenous students and Indigenous struggles for self-determination and sovereignty.  Read more.
Zoom Meeting ID: 844 8617 4332 and Passcode: 999716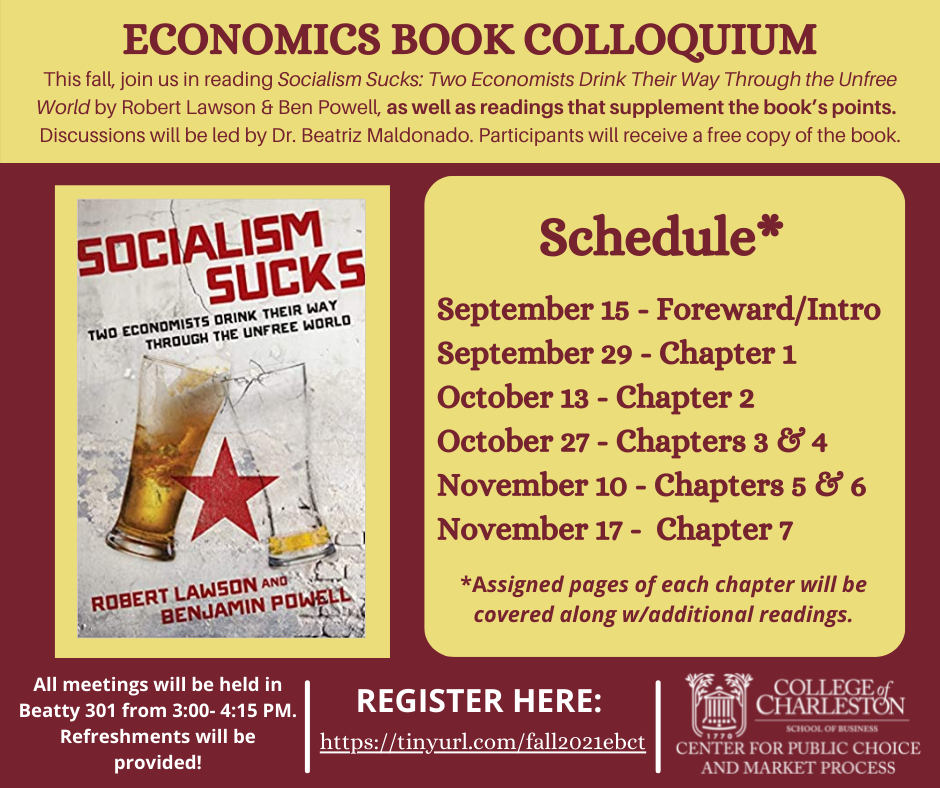 Socialism Sucks: Two Economists Drink Theiry Way Through the Unfree World
Wednesdays in Fall 2021 (dates below) - Register to Attend
Join the Center for Public Choice and Market Process in reading their fall 2021 book colloquium selection, 
Socialism Sucks: Two Economists Drink Their Way Through the Unfree World
 by Robert Lawson and Ben Powell, as well as readings that supplement the book's points. Discussions will be led by Beatriz Maldonado. Participants with receive a free copy of the book. Registration required. All sessions are on ZOOM. 
Read more
.
The EBC is open to any interested College of Charleston students; it is not limited to economics majors. The EBC meets every two weeks, for 1 hour and 15 minutes, on Wednesday from 3:00-4:15 in Beatty 301 from Sept 15 through Nov 17. This semester the Colloquium will be limited to 15 student participants.